Dr. Pramod Hari Mahajan is a renowned & senior Laser and Cosmetic Surgeon of North Maharashtra. He is certified by Australia Board Laser Cosmetic Surgeon. He completed his medical graduation in 1978 from Govt. Medical College, Nagpur. He completed his post-graduation from same institute. He worked as Professor of Surgery in M. H. Medical College, Nashik.
He has undergone training in more than fifty various recognized cosmetic surgery, cosmetic laser surgery and laser treatment workshops held at Bombay Hospital, Mumbai, G S Medical college & KEM Hospital, Mumbai, L. T. Medical College, Mumbai, G.T. Hospital, Mumbai, Moolchand Hospital, New Delhi, Medical University, Lucknow, Medical College, Jaipur etc. He is certified cosmetic laser expert for lasers by Australia Board. He   has acquired training in Lasers under the guidance of
Names of cosmetic Laser & Surgery Teachers:
Prof. Penny Smalley (USA), Dr. Lu Zhong, Shanghai, Dr. Nivat, Bangkok, Dr. Big (U.S.A.), Dr. Michael Gold (U.S.A.), Ascelpion Laser Technologies, Cynosure(USA), DASIC(USA) workshops (Germany)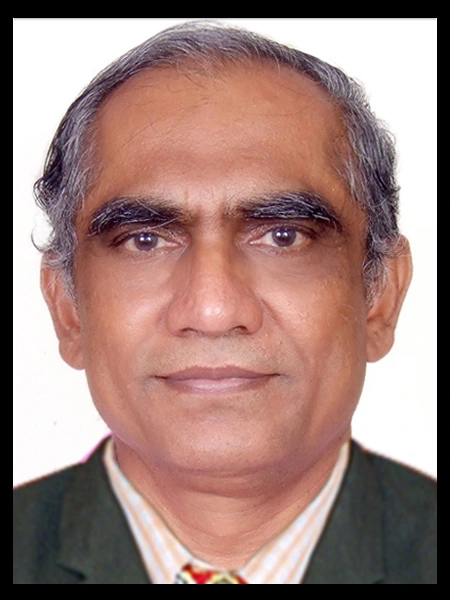 He has acquired special skills in Rhinoplasty (nose reshaping), , power liposuction, ultrasonic liposuction, body contouring surgeries, fat grafting, cosmetic face-neck-head surgeries, scar eradication or resurfacing, skin resurfacing, & skin rejuvenation with lasers such as SCAARFx Laser, DeepFx Laser, ActiveFX Laser, PreciseFx Laser, PigmentFx Laser(Refer Google for more information of these patented lasers), Follicular Unit hair Transplant (FUT), & Follicular Unit Extract (FUE including body hair transplant) hair transplant.
He is Life Member of following Super Specialized National Organizations:
Laser and Cosmetic Surgeon in North Maharashtra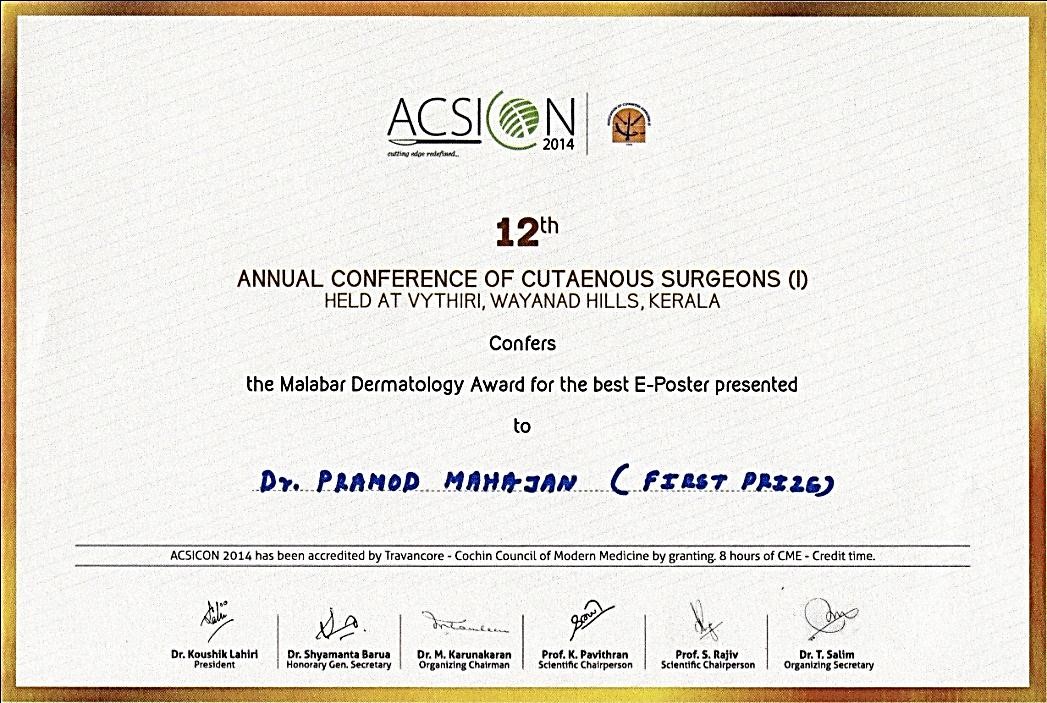 Best Research E-poster
During 2014 he was awarded 1st prize for Best Research E-poster presented during All India Conference of Association of Cutaneous Surgeons of India (ACSICON-2014) held at Wynad, Calicat, Kerala. The poster was on 'UltraPulse CO2 Laser Resurfacing on Facial Pigmentation'.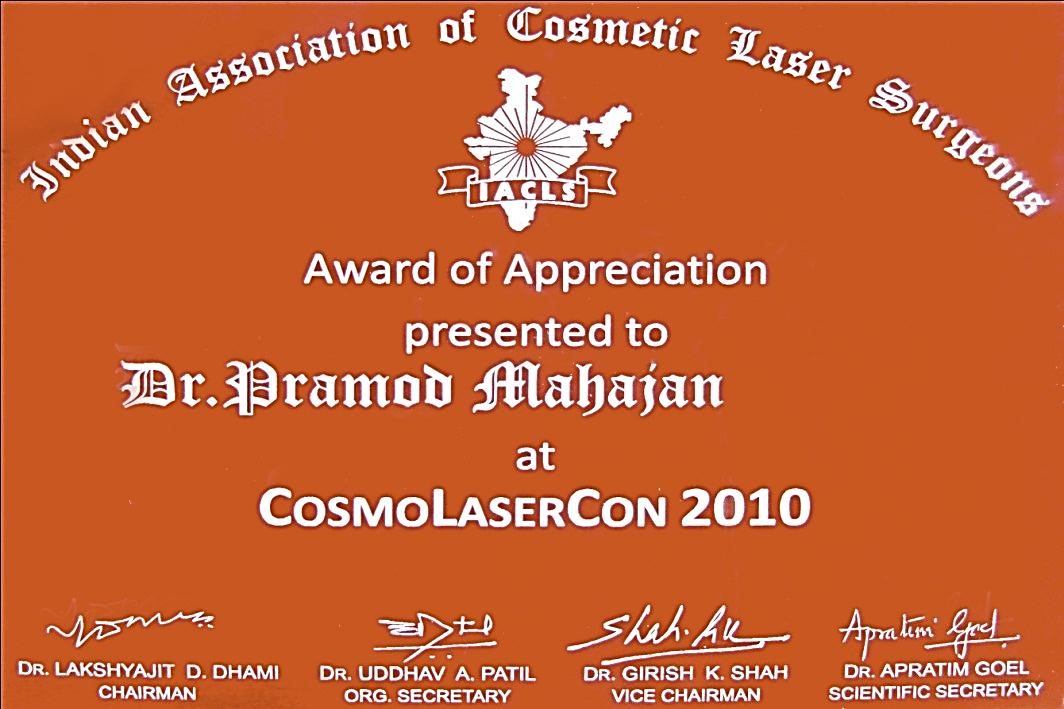 Appreciation Award
In 2010 He received appreciation award from 'Indian Association of Cosmetic Laser Surgeons'.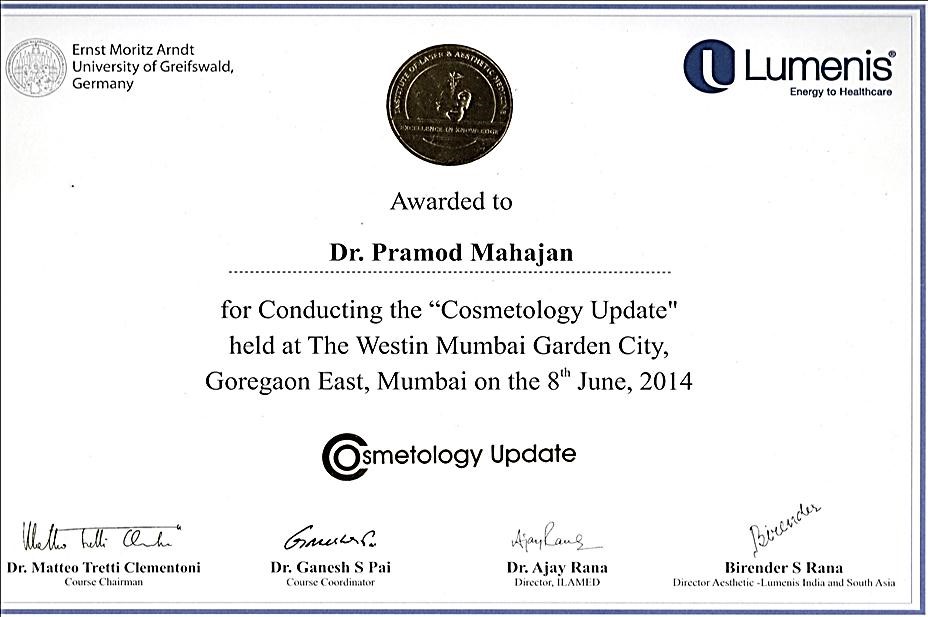 Training sessions
He conducted training sessions during cosmetology update in course conducted by Ernst Moritz Arndt University of Greifswald, Germany and Lumenis on 8th June 2014.
Most Effective and World Class Qualitative Cosmetic Lasers
Look Young Laser & Cosmetic Surgery Centre is the First Multi Laser and Most Popular Cosmetic Center in North Maharashtra. He has multiple types of internationally most preferred Flat wave beam of most advanced (Hi-Tech) LASER machines which are Top most in the world. He started first Hi-Tech Multi Laser & Cosmetic Surgical Centre "Look Young Laser & Cosmetic Surgery Centre ®  of north Maharashtra at Nashik (INDIA). This is the only UltraPulse & SCAARFx laser surgical center in North Maharashtra and is well-equipped with world renowned & most up to date standard multiple leading laser technology brands of the world. It has ISO 9001-2015 Certification. We have maximum number of hair removal Hi-Tech laser technologies in North Maharashtra. It is one of top 10 laser centers of India in terms of quality & laser treatment, Laser technologies and techniques e.g. SCAARFx, Medlite C6. It is one of these top laser centres of India having SCAARFx Laser, DecoFx Laser, ActiveFx Laser, TotalFx Laser, PigmentFx Laser, PreciseFx Laser, IncisionFx Laser which are most effective and patented technologies in the world since last 30 years.
Mediostar NextProXL (Asclepion, Germany) Nexpro XL(Germany) is having twin diode laser(810,940nm) with biggest hand piece(9.2 sq cm) in the world. He has ideal laser for hair removal i.e. Long pulse Alexandrite(755) with spot size 12mm.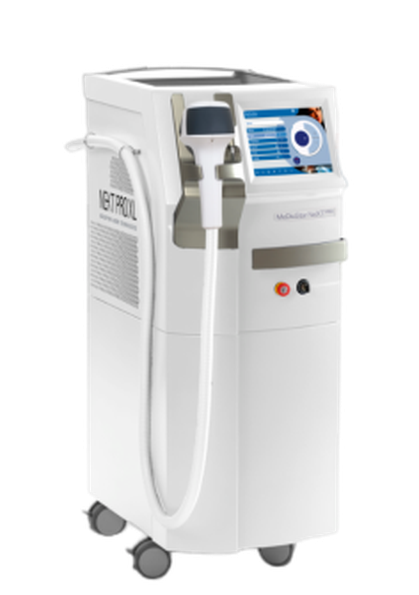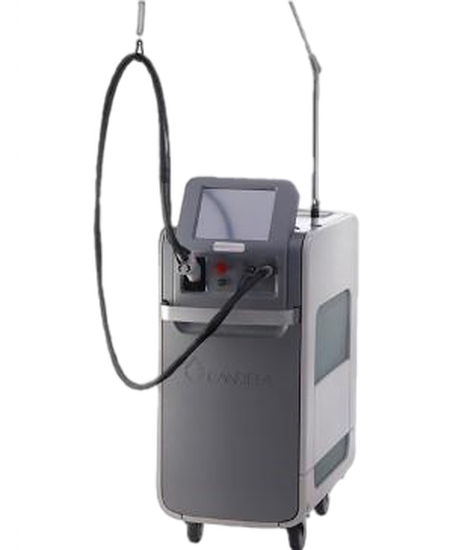 Gentle YAG laser & "Gentle Max Pro" (from America). This is world's most effective long pulse & YAG laser with spot size 18 mm. This is world's strongest & most effective long pulse Nd:YAG platform of Candela. Candela laser is very popular all over the world, specially in America. 
'Ultra-Pulse ®  fractional encore Co2 laser' and patented SCAARFx Laser technology His centre is only centre having patented monopoly techno-logies like SCAARFx Laser, ActiveFx Laser, DeepFx Laser & TotalFx Laser, PigmentFX Technologies.

Medlite C-6 Q-Switch Nd:YAG laser (USA)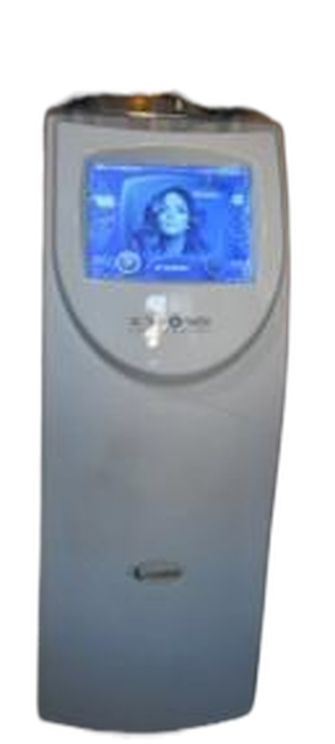 HIFU: We use worlds latest technology of Nonsurgical facelift i.e. HIFU( High intensity focused ultrasound) from Korea.
We use DEKA Synchro HP laser & IPL (ITALY).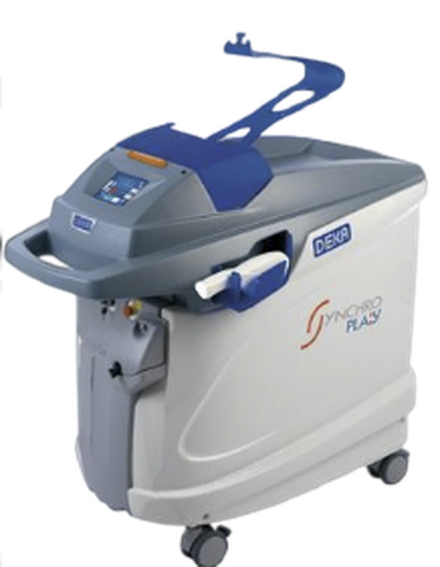 Display Pages Filled with Colorful Icon and Text
लोकशिक्षण माला सौंदर्य पुष्प
Reach out to our sest skin specialist today to ensure your skin stays Healthy and Glowing. 
Get Free Consultation With Our Experts
Everything you need to feel healthy and beautiful